In the Picture with Paula Bronstein: Afghanistan – Between Hope and Fear
Interviewed by her friend and fellow reporter, the Sunday Times' roving foreign affairs correspondent Christina Lamb, Bronstein provided the audience an insight into daily life in Afghanistan. Spanning the 15 years since the 9/11 attacks in New York, the country her photos showed was harrowing; a baby suffering from severe malnutrition, women widowed by war, heroin addicts huddled around a mass of burning clothes.
'A lot of these stories are hard, none of them are easy, none of them,' Bronstein shared, 'but they're stories I feel it's very important to tell.'
But underneath the worsening terror of war, life in Afghanistan goes on. People get married, they celebrate Afghan new year, children play football; conflict has become part of daily life. 'Kids are gonna be kids (…),' Bronstein said, 'they're not going to stop practising cricket on a Friday afternoon'. Her photographs and words share this side of the country too. Her work is deeply human, capturing incredibly expressive faces, from the tortured loss of a mother watching her child die, to the toothless joy of an old man atop a hill overlooking Kabul.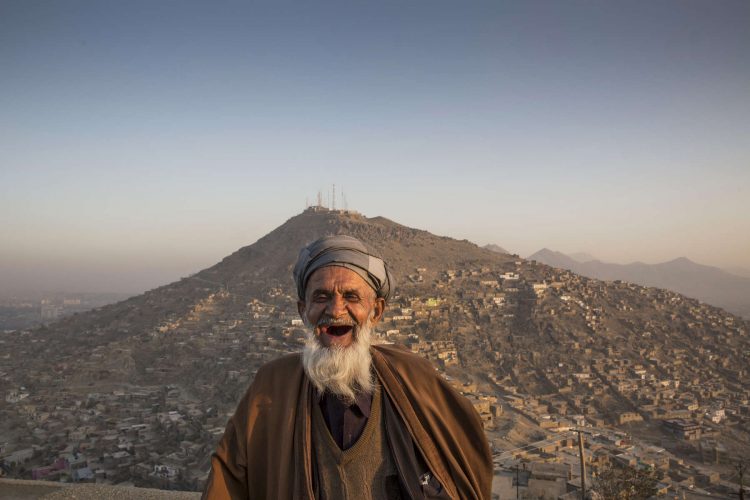 Bronstein's work in Afghanistan captures a country living at both extremes. When she first arrived in the country in 2001, the walls 'were all bullet ridden'. But 'the mountains are gorgeous, the landscape is exquisite,' she remarked, 'and so are the people'.
Her work focuses strongly on the experiences of women living in a still deeply conservative Afghanistan. As a female photographer she has been able to get much closer to their stories than her male counterparts, in many cases behind the burqa. All of the women's stories she has documented, Bronstein said, has been about 'getting access, getting inside of the home'. But, she noted that her work was still limited by the question of 'what will the man allow me to do?'
But despite the more joyful moments captured in her work, both Bronstein and Lamb seemed despondent about Afghanistan's future. With the Taliban resurgent, ISIS gaining a foothold, and a crumbling political process, they saw little to have hope in. Sharing the stories of colleagues and friends she had lost in recent years, Bronstein painted a picture of a country gripped by insecurity. And, as Christina Lamb pointed out, 'The second biggest group of refugees after Syrians are Afghans – they're not leaving the country because things are good in Afghanistan.'